Friday, March 3, 2023 | 11am – 2pm | Westwood Country Club – Vienna, VA
With your help, we raised over $156,000 to support Women Giving Back's mission!
---
2023 Host Committee Members
Event Chair: Cecilia Hodges, Regional President – M&T Bank
Rosie Allen, CEO – United Way of the National Capital Area
Milli Arakawa – CFO, EYA
Irma Becerra, Ph.D., President – Marymount University
Jennifer Bognet, Executive VP – Bognet Construction
Jackie Bradford, President, NBC4/Telemundo 44
Mary Brady – President and CEO, The Economic Club of Washington DC
Diane DuBois – WGB Board/Washington Post (ret.)
Guitty Ejtemai, VP – The Abdolhossein & Guitty Ejtemai Foundation
Nancy Greene, Chairman – Miles & Stockbridge
Elizabeth Hendler, VP Event & Analytics, iHeartMedia
Lexy Kessler, Regional Leader, Aprio
Anne Kress, Ph.D., President – Northern Virginia Community College
Evelyn Lee, President – Truist, Greater Washington
Leslie Ludwig, L&L Family Foundation
Mary McDuffie – President and CEO, Navy Federal Credit Union
Karen McJunkin – Regional Partner, Elm Street Development
Jodie McLean, CEO, Edens
Monica Modi Dalwadi, Managing Partner – DC Metro Region, Baker Tilly
Radha Muthiah, President and CEO – Capital Area Food Bank
Linda Rabbitt, Founder and Chairman – rand* construction corporation
Susan Riel, President and CEO – Eagle Bank
Kim Roy, Executive Officer, HITT Contracting, Inc.
Janis Schiff, Partner – Holland & Knight
Courtney Spaeth, CEO – growth[period]
Patricia Steis, Managing Director – Office Head, Marsh
Leslie Strittmatter, WGB Co-Founder/Publisher – New Homes Guide (ret.)
Lauren Vanni Kinard, WGB Board/President – First Excel Title LLC
Katharine Weymouth, Former Publisher – The Washington Post
Ruth Williams-Brinkley, Regional President – Kaiser Permanente
---
Keynote Speaker:
Irma Becerra, Ph.D.
President
Marymount University
Thank you for supporting Women Giving Back's Women's Empowerment Luncheon presented by M&T Bank.
We hope that you are inspired by the great work Women Giving Back is doing in our region. Now more than ever funding is critical to carry out our mission. Your generosity and support are essential in making a difference in our community! We believe all women and children should have access to the resources they need to succeed.
Your donation, big or small, will have a life changing impact on a woman and child's future.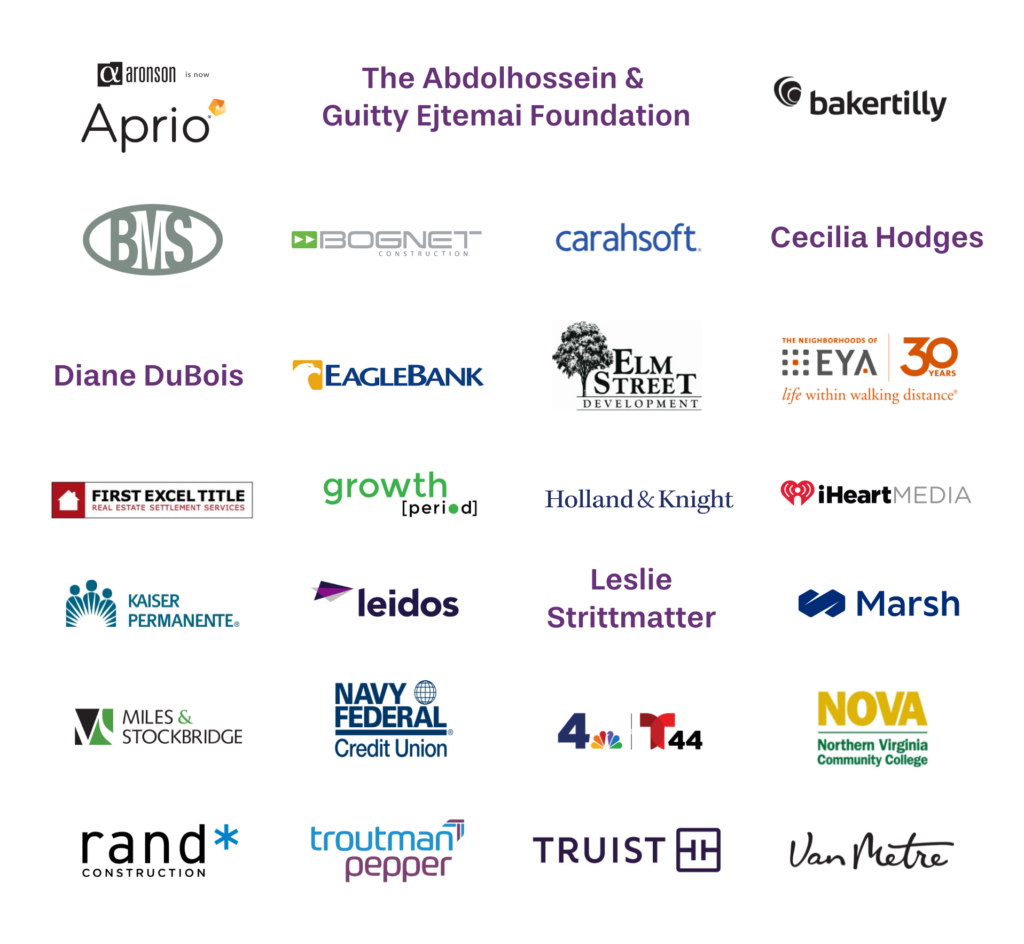 Other Luncheon Supporters
Katharine Weymouth
Kathy Bonnafe
Jodie McLean
Leslie Ludwig
In-Kind Donors
Aprio
Baker Tilly
Chip McCrea Photography
EagleBank
First Excel Title
Lake Ridge Nursery
Leidos
Lyons & Sucher
Marymount University
M&T Bank
NBCUniversal
StoryView Digital Media
The Economic Club of Washington DC
The Washington Nationals